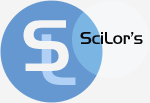 SciLor's QuickTap
v0.5
Train your reflexes on Windows Mobile.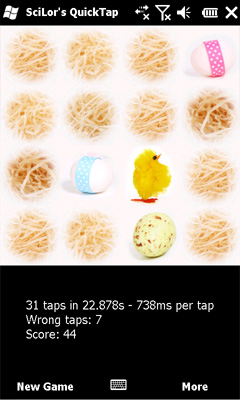 Support us
| PayPal | Flattr | Bitcoin |
| --- | --- | --- |
| | | Send bitcoins to: 19nKUQzjtKjEWe5d7yRLPCpK9SLXM76p9B |
SciLor's QuickTap is a small Reflex-Testing game ("Tap-on-the-shiny-button Game").
Tap as fast as you can on the eggs, if you tap on a baby chicken you may get an additional egg to tap but you get some negative points!
To prevent any damage to your screen, please use your FINGERS and NEVER your stylus!
v0.5 (2010-05-10)
-Enhancement: Easter Skin
-Enhancement: Highscore and 3 Gametypes
-Enhancement: SciLor's UpdateChecker
-New: "Bad"-Fields that should not be tapped!
-Fix: Crash and wrong tap-tracking

-----------------------

v0.2 Alpha (2009-09-30)
-Enhancement: Speed now visible
-Enhancement: 3-2-1-GO

v0.1 Alpha (2009-09-30)
-Initial Release