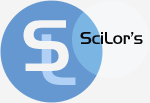 SciLor's grooveshark™.com Downloader
v0.7.0
This tool helps you to download music from grooveshark.com
Support us
| PayPal | Flattr | Bitcoin |
| --- | --- | --- |
| | | Send bitcoins to: 19nKUQzjtKjEWe5d7yRLPCpK9SLXM76p9B |
It offers several languages (such as: catalan, french, german, germanbavarian, portuguese, spanish, swedish, turkish, italian, danish, hungarian).
This tool has the
Tor Project
included (optionally).
Are you from germany, where grooveshark(tm) is blocked? This will work for you!
You like the commandline? Then try the commandline offered within this app (-help)
Also nice is the proxy feature.
Thanks fly out to "nilezon" who offered his grooveshark™ API!
Also thanks fly out for all the tranlators who helped me to bring this piece of software into several languages!
I am not responsible for any violations to the Terms of Use of Grooveshark™ this tool may do (It is not allowed to archiv the dumped mp3's!). It is more or less a prove of concept.
I am not related to Grooveshark™ in any way!

v0.7.0 (2015-06-25)
-Fix: International characters fixed for search.
-New: Popular Music is back! (UK Top 40)

-----------------------

v0.6 Alpha(2015-05-03)
-Fix: Search and download fixed!
-New: Alternative music source.

v0.5.0(2015-04-20)
-Fix: The request was aborted: Could not create SSL/TLS secure channel.
-Fix: Get Album and Artist
-New: dotNet Compact Framework of the API replaced with .NET 4.0 (SSL Poodle attack)

v0.4.15(2014-10-17)
-Fix: Error: Reconnect unsuccessful - The request was aborted: Could not create SSL/TLS secure channel.

v0.4.14(2014-06-14)
-Fix: System.OverflowException - Arithmetic operation resulted in an overflow
-Fix: Temp files should get deleted now.

v0.4.13(2014-06-02)
-Fix: The value is too large or too small for an Int32.

v0.4.12(2013-10-17)
-Fix: Reconnect unsuccessful - Object reference not set to an instance of an object.

v0.4.11(2013-10-16)
-Fix: Reconnect unsuccessful - Unexpected character encountered while parsing value: h. Path '', line 1, position 1.

v0.4.10.1(2013-09-15)
-Fix: Crash on startup, Visual Studio didn't update the skinfile -.-

v0.4.10.0(2013-09-15)
-Fix: Auto ask for Admin when needed - NullPointerException Fix
-New/Update: Languages -> Korean, Lithuanian, Serbian
-Feature: Use mp3gain to normalize the volume of the downlaoded songs

v0.4.9.8(2013-09-03)
-Fix: Auto ask for Admin when needed
-New: InnoSetup based Installer

v0.4.9.7(2012-09-14)
-Fix: SSL/TLS problem
-Fix: GrooveFix Updater -> Pressed no -> reconnect.

v0.4.9.6(2012-09-08)
-Fix: Reconnect unsuccessful - Could not get a session id from grooveshark.com. Invalid Set-Cookie header ;)

v0.4.9.5(2012-06-10)
-Fix: Problems with missing write-access fixed (Admin-rights)

v0.4.9.4(2012-04-29)
-Fix: UTF8 Encoding working fine now =)
-Change: Songs downloaded with ".tmp" extension, which is removed when the song is successfully downloaded (Usefull for people using iTunes auto import)
-New: Russian language (Thank you BBob)
-Fix: Autocomplete working again

v0.4.9.3a(2012-03-14)
-New: Hebrew language
-Updated: Json Library
-Fix: Problems with some json errors when searching

v0.4.9.3(2012-03-13)
-New: Updater for GrooveFix.xml (Small updates)
-New: Auto language detection.
-Fix: Grooveshark(tm) changed again...
-Removed/Fix: Gema message with tor.

v0.4.9.2e(2012-02-29)
-Fix: Grooveshark(tm) changed :P

v0.4.9.2d(2012-02-22)
-Fix: Grooveshark(tm) made a little change again :P
-New: Hebrew language included (thank you omerbennun!)

v0.4.9.2c(2012-02-07)
-Fix: Grooveshark(tm) is funny, they changed something again ;)

v0.4.9.2b(2012-01-30)
-Fix: Delete Skipped Songs!

v0.4.9.2(2012-01-30)
-Update: Finnish translation (thank you babaz!)
-Fix: Downloading more than a couple of songs shouldn't make any problem ;)

v0.4.9.1(2012-01-27)
-Enhancement: Save some bandwidth (Api)
-Fix: Another change on grooveshark(tm) - You may be blocked after some songs!

v0.4.9u(2012-01-21)
-Fix: Seemed to stop downloading after 5 songs ;)
-Enhancement: Don't start downloading songs when skipping.

v0.4.9t(2012-01-21)
-Enhancement: Fallback to the mobile version (again) is now fixed. Should work for germany fine again!

v0.4.9s(2012-01-20)
-Update: Portuguese language (thank you hugo_luiten)
-Enhancement: Now available from germany without the mobile version or tor. Full features for you!
-Enhancement: Some country api included again!

v0.4.9r(2012-01-19)
-Update: Portuguese language (thank you hugo_luiten)
-Update: Now use the mobile version of grooveshark(tm), if the normal version isn't available (Works without Tor in germany).
-Update: It is only asked for Tor, if the mobile version fails.
-Enhancement: Various new translatable strings.
-Fix: A problem that occours with long filenames and existing files.
-Fix: Crash when Tor installation is missing.

v0.4.9q(2012-01-19)
-Update: Portuguese language (thank you hugo_luiten)
-Fix: A problem that may caused much high cpu usage while doing nothing
-Fix: Automatically ask for running the Downloader + Tor if the user is from Germany (+commandline switch & .bat file).
-Fix: Show error for germans
-Fix: Buggy proxy support
-Fix: "Start reconnecting" Should be translated at app start, too
-Fix: Various things now translatable.

v0.4.9p(2012-01-08)
-New: Loading Bitrate for a song (Right mouse)
-New: Romanian language (thanks you speednsx)
-New: Portuguese-Brazil language (thanks you szanini)
-Update: Portuguese language (thanks you hugo_luiten)
-Fix: PathTooLongException fixed, now we can have longer filenames :)
-Fix: Some System.NullReferenceException Errors that occoured for some users
-Fix: No search results for some users
-Fix: A too small download queue button for other language texts.
-Fix: Autocomplete working again

v0.4.9o(2012-01-03)
-Feature: Tray Icon to minimize to tray
-Feature: New commandline arguments for setting username/password and fetching the playlists
-Enhancement: Select first playlist after login automatically
-Change: Keep everything in the search box in commandline mode when working with playlists
-Fix: A possible problem with the search, that some users had.
-Fix: A crash on WinXP when not at 96dpi.
-Fix: A commandline bug (-add)

v0.4.9n(2011-11-17)
-Feature: Show length of some songs ;)
-Fix: Change on the excelent grooveshark(tm) webservice
-Fix: Aero Theme on XP

v0.4.9m(2011-08-31)
-Fix: Songname empty Problem
-Feature: Makes the Commandline arguments asynchronous so you can see whats happening
-Feature: Commandline "-playlistById ", "-add "
-Feature: Dump Playlist login via enter-key

v0.4.9l(2011-08-09)
-Fix: Batch and Search - Autocomplete bug
-Feature: Command line: Try "-help"

v0.4.9k(2011-07-19)
-Fix: Change on the excelent grooveshark(tm) webservice
-Fix: Reappearing downloads that were already deleted.

v0.4.9j(2011-05-04)
-Fix: A bug resulting in problems with downloads. (Conversion from string "Begin fetching streamkey for " to type 'Double' is not valid)

v0.4.9i(2011-05-04)
-Feature: GridSplitter that allows to change the size of the Search/Download tables (forgot it on the last release).
-Feature: Filter search results.
-Feature: Debug mode with "-debug" as command line parameter

v0.4.9h(2011-04-26)
-Feature: Ignore certificates by creating a "nocert" file
-Feature: GridSplitter that allows to change the size of the Search/Download tables.
-Fix: Another change on the excelent grooveshark(tm) webservice
-Fix: Possible bugs when not in admin mode.
-Fix: A wrong caption of the download button.
-New: Facebook button

v0.4.9g(2011-03-13)
-Fix: Song Preview Fixed

v0.4.9f(2011-03-13)
-Feature: Open a song on grooveshark(tm) with right click on the song.
-Feature: Username/Password Proxy support(experimental), including a test button.
-Enhancement: Better Country handling (50 and more songs...).
-Enhancement: Better Skinhandling on missing elements.


v0.4.9e(2011-03-12)
-Enhancement: Various language file updates
-Feature: Get a playlist by its id
-Fix: A problem that occured on download of 50 or more songs
-Fix: Languagefile use of "tabConfigConnection".
-Fix: Ensure that the application is really closed.

v0.4.9d(2011-03-06)
-Fix: "Cowbell not found" error fixed, due to a change on the very nice grooveshark(tm).com service.

v0.4.9c(2011-02-19)
-Fix: A bug that may crash the app on chaning the language ('=' is an unexpected token. The expected token is ';'. Line 1, position 124.)

v0.4.9 Beta(2011-02-19)
-Feature: Italian, Turkish, Danish, Hungarian Translations :) Thank you all
-Feature: Autoconnect on Startup.
-Feature: Proxy (Settings).
(grpConfigConnection/grpProxy/lblProxy/txtProxy)

v0.4.8 Beta(2011-01-04)
-Enhancement: Faster inital connect :)
-Fix: Improved autoartistsearch (crashes/bugs)

v0.4.7 Beta(2011-01-04)
-Feature: Language Engine :), including some translations(catalan, french, german, germanbavarian, portuguese, spanish, swedish) Thanks fly out to all translators!
-Feature: Click on Search result marks/unmarks it
-Feature: Mark your results, right click and Select!
-Feature: Search Autocomplete :)
-Enhancement: Better resizing of the Controls to fit longer/shorter language strings ;)

v0.4.6 Beta(2010-12-22)
-Feature: Go to download directory(May have problems with long paths) under the "Extra" menu entry ("mniGoToDownloadDir" in the Skinfile!)
-Fix: Change on the grooveshark(tm).com Website made some problems ;)

v0.4.5 Beta(2010-12-15)
-Fix: Problems with loading Skin if starting from Shortcut(thanks fly out to anerathil)

v0.4.4 Beta(2010-12-12)
-Feature: Import Batch Search & Add from file (New button in the skin "btnImportBatch")
-Feature: Skip/Overwrite/Autorename existing files (New radiobuttons "rbtExistingSkip"/"rbtExistingOverwrite"/"rbtExistingAutoRename"
-Fix: Counting from one instead of zero (deleting)

v0.4.3 Beta(2010-12-03)
-Fix: Cowbell error fixed ;)

v0.4.2 Beta(2010-12-02)
-Feature: Right click any song to search for all songs having the same album or same artist :)
-Enhancement: Timeout set to 10 from 5 seconds
-Fix: Possible crash on Timeout on reconnect
-Fix: Broken downloadlists should be handled correctly now!

v0.4.1 Beta(2010-11-25)
-Feature: Recover Downloadlist on Startup(May need admin rights!)
-Enhancement: Most things are now working in an extra thread (Downloading etc.) to make the app more responsible
-Fix: Icon was broken
-Fix: Sorting of the download list would cause errors, now it's disabled

v0.4.0 Beta(2010-11-23)
-New: .Net Framework 4.0 should be needed (untested)
-New: Completely new WPF based Window that can be skinned by your needs if you are able to write in XAML
-Enhancement: Auto reconnect on token error. If it fails 2 times in a row an error is thrown

v0.3.9 Beta(2010-10-21)
-Fix: Wrong sorted playlists fixed
-Fix: Possible crash on loading playlists.

v0.3.8 Beta(2010-10-21)
-Enhancement: Auto check for updates on startup
-Feature: Download your playlists from grooveshark(tm).com :)

v0.3.7 Beta(2010-10-12)
-Enhancement: Select All etc.
-Feature: Batch Search & Add.
-Feature: Custom Icon via "customIcon.ico"

v0.3.6 Beta(2010-09-16)
-Enhancement: Experimental reconnect dialog on invalid token
-Enhancement: Reconnect Button

v0.3.5 Beta(2010-09-07)
-Enhancement: misterious "privacy" ;)
-Fix: New revision

v0.3.4 Beta(2010-07-10)
-Enhancement: Better error handling (especially on wrong incoming data)
-New: Uncheck all checked search results after adding them to the download list (Can be disabled in the settings)
-Fix: Filename handling now allows directories again.

v0.3.3 Beta(2010-07-06)
-Enhancement: Better error handling
-Feature: Check by click on entry
-Feature: Immediately download abortion
-New: Nice icon
-Fix: Config.xml and missing administration rights
-Fix: Real use of repaired filenames

v0.3.2 Beta(2010-06-26)
-New: Settings dialog, including selection of the download directory and the song renaming patterns
-Feature: Popular song search
-Feature: Delete songs of the download list with a click
-Enhancement: Better error handling and Debug log
-Fix: Enter key to start search

v0.3.1 Beta(2010-06-23)
-Quickfix: Crash on any search...

v0.3.1 Alpha(2010-06-23)
-Enhancement: New revision, country fix included ;)
-Fix: Crashes on illegal file characters in track names
-Fix: Language specific characters fixed (letters with circumflexes, points, umlauts etc.)

v0.3 Alpha(2010-05-09)
-Enhancement: New API and new form.

v0.2.3 Beta(2010-04-15)
-Enhancement: GrooveFix.xml for easy fix for token and client problems.
-Fix: New clientRevision on grooveshark(tm).com
-Fix: New staticRandomizer on grooveshark(tm).com

v0.2.2 Beta(2010-03-24)
-Fix: I fixed another revision change :)
-Feature: SciLor's Update Checker included ;)

v0.2.1 Beta(2010-02-23)
-Fix: Big change adjusted, working but it is very dirty ;)

v0.2 Beta(2010-01-31)
-Fix: I fixed another revision change :)
-Fix: I fixed a token change :)

v0.2 Alpha (2009-12-11)
-Fix: New Grooveshark Client Revision

v0.1 Alpha (2009-11-15)
-Initial Release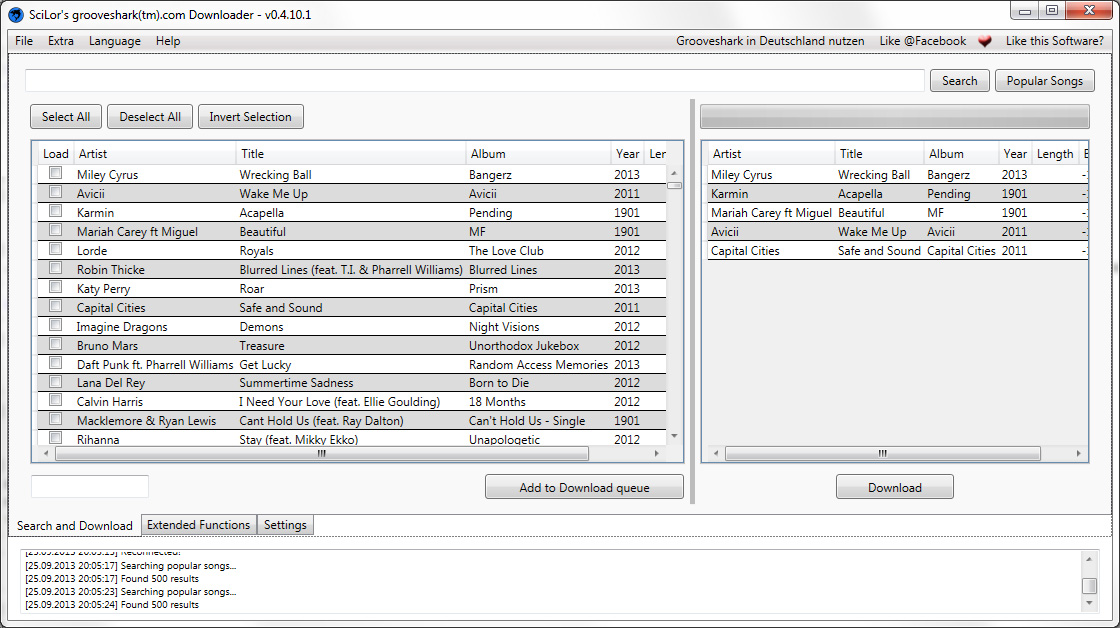 English
Spanish
German by Sempervideo